---
DAWN
Daily Arts Web Nucleus
---
Discover the Arts!
Each day a different image from the Literary, Performing, or Visual Arts representing a portion of Scripture
plus an explanation with links
2017 October 3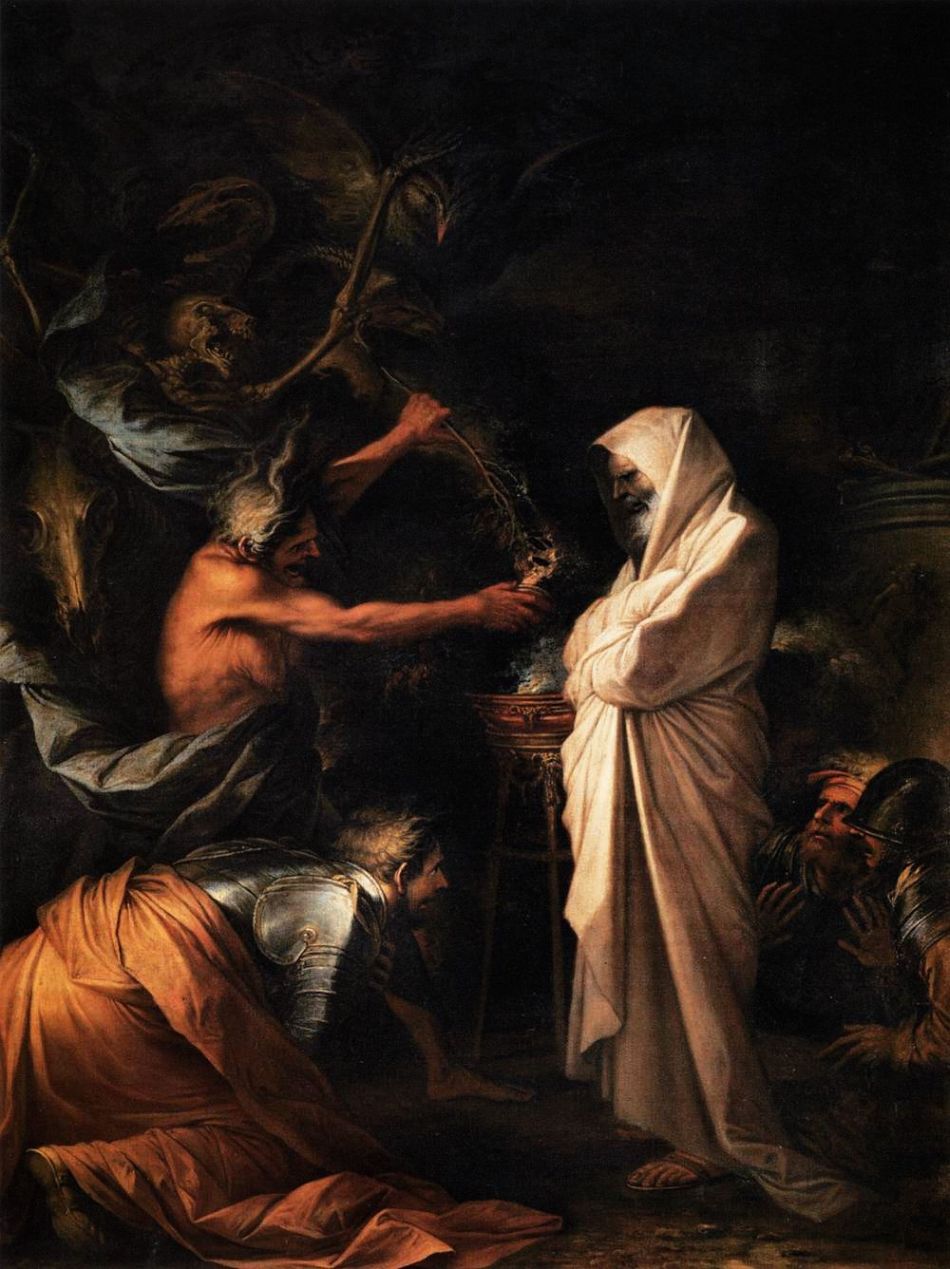 The Shade of Samuel Appears to Saul (1668)
Salvator Rosa (1615-1673)
Baroque Style; Proto-Romantic
Musee du Louvre, Paris, France Image Source: Web Gallery of Art




SPECIAL NOTE:


[ I will again be working through the Scriptures from Genesis to Revelation. I will be adding links, resources, images, and the like, upgrading the former work-through which began with the 2013-10-12 posting which can be found, along with the full Genesis to Revelation postings, in the Archive Page. Postings will be at midnight Eastern Time, as I am able. However, no chapters will be skipped, even though a posting may be late. And all postings will be housed in the Archive Page. ]



Explanation: 1 Samuel 28 records Saul's encounter with the witch of Endor. When the Philistines gathered for war against Israel, Achish invited him to go with them. David, using a double entendre, told Achish that he would show him what he could do; and Achish, who kook it positively, said that he would make David the keeper of his head (the keeper of his life or the captain of his bodyguard) forever (1-2).
Samuel had been dead for some time; and Saul had put away those who had familiar spirits and wizards out of the land. But when he saw the Philistines gathered, he became very fearful; and he inquired of the LORD; but the LORD did not answer him by prophets, priests, or dreams. His servants then told him of a woman in Endor who had a familiar spirit (3-7).
Saul went to her by night in disguise with two other men. The woman was afraid that they might be laying a trap for her since Saul had banned witches and wizards. But Saul assured her that no harm would come to her. So she called up Samuel; but at that moment she realized that she was in the presence of Saul. Saul again assured her of safety and asked what she saw. From her description, Saul recognized that Samuel had appeared; and he bowed to him with his face to the ground (8-14).
Samuel asked Saul why he had disquieted him. Saul told him that the LORD would not answer his inquiries; and Samuel asked him again why, if the LORD had become his enemy, he made inquiry of him. Samuel reminded Saul of his sins; and he told him that he and his sons would be with him tomorrow and that Israel would fall to the Philistines (15-19).
And Saul fell prostrate on the ground and had no strength left within himself since he had not eaten all day and all night. The woman, therefore, persuaded him to eat. Afterward, Saul and his men departed (20-25).
[ Sermons: William W Goligher. William Still. Various. ]
[ Illustration: Today's painting shows the key event of today's chapter, the appearance of Samuel in spirit form to Saul. ]






---



RESOURCES


PLEASE NOTE: Use the resources on this and other sites thoughtfully, particularly the commentaries and encyclopedias. I have attempted to list conservative, scholarly resources. However, some providers use liberal or liberal-influenced commentaries such as the Cambridge Bible for Schools and Colleges (in Bible Hub). Such commentaries are undoubtedly included by the provider for the wealth of useful information and comments which they provide. By consulting several commentaries, it should be fairly easy to sort out the wheat from the chaff. If, however, you would like personal assistance, write to me at AD LIB ARTS EMAIL.


[ THEMATICALLY AND CHRONOLOGICALLY RELATED SCRIPTURES: 1 Samuel 28:
[2] 1 Samuel 29:3; 1 Samuel 29:11. [3] 1 Samuel 27:3; 1 Samuel 27:8-9, Deuteronomy 18:11; Isaiah 29:4; Exodus 22:18; Leviticus 20:27.
[4] 1 Samuel 27:1; 1 Kings 1:3.
[6] 1 Samuel 30:7-8; 2 Samuel 8:17; 2 Samuel 15:24; 2 Samuel 15:29; 2 Samuel 15:35; 1 Chronicles 15:11; 1 Chronicles 18:16.
[8] Ephesians 4:9.
[11] John 11:39.
[12 1 Samuel 28:13; 1 Kings 14:2; 1 Kings 14:6.
[14] Daniel 7:9; Exodus 15:3.
[15] 1 Samuel 27:6.
[16] Psalm 139:20.
[20] 1 Samuel 28:14.
-- From Ellicott's Commentary for English Readers ]


[ CHRONOLOGY: GENERAL. Patriarchs (Traditional). Judges # 1. Judges # 2. Kings # 1. Kings # 2. Prophets # 1. Prophets # 2. NT # 1. NT # 2. NT # 3. ]

[ MAPS: Maps # 1. Maps # 2. Maps # 3. Maps # 4. Maps # 5. ]

[ COMMENTARIES, ETC: GENERAL: Bible Study Tools; Bible Hub: Study Light; Blue Letter Bible // PSALMS: Monergism: Precept Austin: The Treasury of David; John Gill; John Calvin - Volumes 1, 2, 3, 4, 5]

[ MUSIC: GENERAL: The Cyber Hymnal // PSALMS: Genevan Psalter (Instrumental). VARIOUS ARTISTS: Micha'el Ben David. Sons of Korah. Fernando Ortega. Janet Isaac Morrison. Music of the Bible Revealed - Suzanne Haik-Vantoura. Dr. David Erb. Gregorian Chants. ]


---
HARMONY OF THE LAW
HEBREW AND GREEK INTERLINEAR BIBLES
---
1 Samuel Detailed Outline
1 Samuel 28
Note: In the Hebrew Bible 1 Samuel and 2 Samuel are one book. Also, 1 Kings and 2 Kings are one book.
Samuel and Kings reveal Israel's history from Samuel to the beginning of the Babylonian Captivity.
1 and 2 Chronicles, originally one book, trace the history of God's people from creation to the end of the Babylonian Captivity.
1. Samuel's Reign as the Last of the Judges (1 Samuel 1:1 - 8:22) - 1100 - 1050 B.C. Israel
A. Samuel's Early Life (1 Samuel 1:1 - 3:21)
B. Samuel's Life From Youth to Old Age (1 Samuel 4:1 - 8:22)
1. Samuel & the Philistines (1 Samuel 4:1 - 7:14)
2. Samuel & the Israelites (1 Samuel 7:15 - 8:22)
2. Saul's Reign as the First God-Given King over All of Israel (1 Samuel 9:1 - 31:13) - 1050 - 1010 B.C. Israel
A. Saul and Samuel (1 Samuel 9:1 - 14:52)
B. Saul and David (1 Samuel 15:1 - 31:13)
1 And it came to pass in those days, that the Philistines gathered their armies together for warfare, to fight with Israel. And Achish said unto David, Know thou assuredly [Knowing you are knowing], that thou shalt go out with me to battle, thou and thy men. 2 And David said to Achish, Surely thou shalt know what thy servant can do. And Achish said to David, Therefore will I make thee keeper of mine head for ever [all ever the days].
3 Now Samuel was dead, and all Israel had lamented him, and buried him in Ramah, even in his own city. And Saul had put away those that had familiar spirits, and the wizards, out of the land. 4 And the Philistines gathered themselves together, and came and pitched in Shunem: and Saul gathered all Israel together, and they pitched in Gilboa. 5 And when Saul saw the host of the Philistines, he was afraid, and his heart greatly trembled. 6 And when Saul enquired of the LORD, the LORD answered him not, neither by dreams, nor by Urim, nor by prophets. 7 Then said Saul unto his servants, Seek me a woman that hath a familiar spirit, that I may go to her, and enquire of her. And his servants said to him, Behold, there is a woman that hath a familiar spirit at Endor.
8 And Saul disguised himself, and put on other raiment, and he went, and two men with him, and they came to the woman by night: and he said, I pray thee, divine unto me by the familiar spirit, and bring me him up, whom I shall name unto thee. 9 And the woman said unto him, Behold, thou knowest what Saul hath done, how he hath cut off those that have familiar spirits, and the wizards, out of the land: wherefore then layest thou a snare for my life, to cause me to die? 10 And Saul sware to her by the LORD, saying, As the LORD liveth, there shall no punishment happen to thee for this thing. 11 Then said the woman, Whom shall I bring up unto thee? And he said, Bring me up Samuel. 12 And when the woman saw Samuel, she cried with a loud voice: and the woman spake to Saul, saying, Why hast thou deceived me? for thou art Saul. 13 And the king said unto her, Be not afraid: for what sawest thou? And the woman said unto Saul, I saw gods ascending out of the earth. 14 And he said unto her, What form is he of? And she said, An old man cometh up; and he is covered with a mantle. And Saul perceived that it was Samuel, and he stooped with his face to the ground, and bowed himself.
15 And Samuel said to Saul, Why hast thou disquieted me, to bring me up? And Saul answered, I am sore distressed; for the Philistines make war against me, and God is departed from me, and answereth me no more, neither by prophets, nor by dreams: therefore I have called thee, that thou mayest make known unto me what I shall do. 16 Then said Samuel, Wherefore then dost thou ask of me, seeing the LORD is departed from thee, and is become thine enemy? 17 And the LORD hath done to him, as he spake by me: for the LORD hath rent the kingdom out of thine hand, and given it to thy neighbour, even to David: 18 Because thou obeyedst not the voice of the LORD, nor executedst his fierce wrath upon Amalek, therefore hath the LORD done this thing unto thee this day. 19 Moreover the LORD will also deliver Israel with thee into the hand of the Philistines: and to morrow shalt thou and thy sons be with me: the LORD also shall deliver the host of Israel into the hand of the Philistines.
20 Then Saul fell straightway all along on the earth, and was sore afraid, because of the words of Samuel: and there was no strength in him; for he had eaten no bread all the day, nor all the night. 21 And the woman came unto Saul, and saw that he was sore troubled, and said unto him, Behold, thine handmaid hath obeyed thy voice, and I have put my life in my hand, and have hearkened unto thy words which thou spakest unto me. 22 Now therefore, I pray thee, hearken thou also unto the voice of thine handmaid, and let me set a morsel of bread before thee; and eat, that thou mayest have strength, when thou goest on thy way. 23 But he refused, and said, I will not eat. But his servants, together with with the woman, compelled him; and he hearkened unto their voice. So he arose from the earth, and sat upon the bed. 24 And the woman had a fat calf in the house; and she hasted, and killed it, and took flour, and kneaded it, and did bake unleavened bread thereof: 25 And she bought it before Saul, and before his servants; and they did eat. Then they rose up, and went away that night.




---
ADDITIONAL AD LIB MATERIAL: Prose, Poetry, Writers, Visual Artists, Music, DAWN, and ILLUMINATION. ILLUMINATION features a compact, Illuminated Bible. DAWN, the page you are presently visiting, features a new image and explanation daily.

Please Email Comments and Questions To

AD LIB ARTS EMAIL copyright 2017, Scott Souza